Melanie from PlanforAwesome.com is here to share an awesome travel organization hack with us. Getting your home in order is one thing, but keeping things in order while traveling is a whole other beast! Take it away, Mel!
**This post contains affiliate links which means if you click on a link and make a purchase, Melanie may make a commission at no cost to you.**
We have a lot of kids. When we travel as a family, regardless of if we are staying in a hotel, a cabin, or someone's house, there is rarely a place for everyone to hang their towels.
And since I am a germ freak, I can't just lay them on the floor, or on the bed, and even throwing them over the shower curtain rod kind of freaks me out. Have you ever thought of how many other people have thrown their used towel over that same shower curtain rod? And who knows what they used that towel on before doing so. GROSS!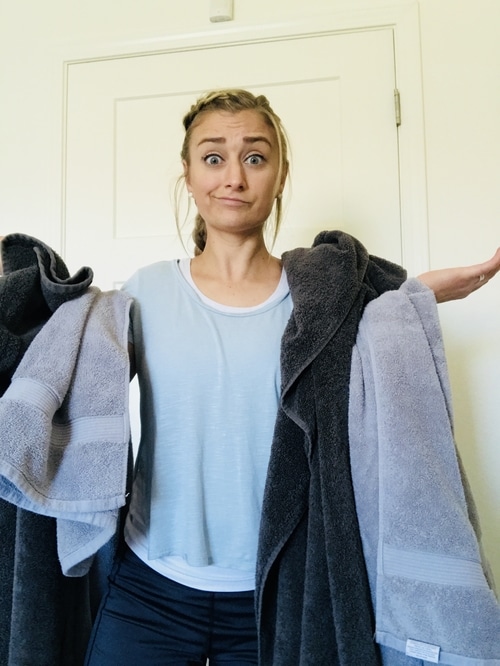 This may seem like a trivial thing. But really, it bugs me. Most homes/hotels have a towel rack which usually fits 2 towels. But what about all the kids' towels?
If we are in a hotel, I always just resort to throwing them all on the floor and getting fresh ones for the next day. Which is lame.
So I finally decided to invest in a solution.
I bought this 4-pack of hooks on Amazon and they have solved this annoying vacation problem. I always keep them in our travel tote, so they are always there and ready to pack.
Where to Put the Hooks
They can go
Over a shower curtain rod
Over the top of a 4-post bed frame
ON the actual towel rack (a bar that once held 2 towels now holds 4 or more!)
Over the door

The towels stay on best when the hooks are secure over a door because that is what they are designed to do. . If putting them over another thing like a shower curtain rod or a towel rack, just make sure the towel is secure over the lip of the hook. Since the hook will be at an angle, the towel can slip off if it isn't hooked around the edge securely.
Whose Towel is Whose?
BONUS! This pack comes with 4 different colored hooks.
So each kid has their own color. Double cool!
We had to get two packs since we have more than 4 kids, but at that point, the towels are hanging in separate locations, so there's only one of each color in one spot, so it works.
You also have the option to get these same hooks with ladybugs, cats, or pandas. So problem solved if you have more than 4 kids. One can be the plain blue and one can be the panda blue.
One more tip on that – these hooks are MAGNETIC. If you have a teeny magnet to put on there to distinguish whose is whose, go for it!
I'm curious…am I the only one who has been bugged by the towel situation on vacation?! Comment below if you share my frustrations!
Before you go, check out this travel organization hack for packing your hair stuff, and 4 Tips for Packing Kids' (& Adults') Teeth Stuff.